Welcome to the Home of
Organs of Vision and Speech Magazine!
During the month of April you can submit as many times as you like! Send your poems as you write them!
Winter 2013 ~Featuring the poetry of Liz Ahl!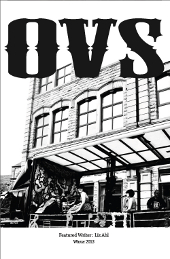 We are now accepting submissions for the Summer 2013 issue!
What do we want?
Send us your art, your poetry, and even your art that goes with your poetry, and all you have poured into it! We want to hear from everyone. It doesn't matter if you haven't published before, or if you are an old pro. It doesn't matter to us how many galleries you have hung in. We just want great work that makes us feel what you are expressing.
Check out our review on
NewPages.com
!
Экстренная помощь алкоголикам от наркологической клиники,
лечение алкоголизма
по новейшим методикам. Киевский центр лечения алкоголизма.
"Painting is poetry that is seen rather than felt, and poetry is painting that is felt rather than seen." ~Leonardo da Vinci

"Ink runs from the corners of my mouth
There is no happiness like mine.
I have been eating poetry."
~Mark Strand, "Eating Poetry," Reasons for Moving, 1968
ISSN:1949-8225 (online) ISSN: 1949-8217 (print)